Mask Policy!
We are implementing a mandatory mask policy.  Please review the following information prior to arriving for your appointment.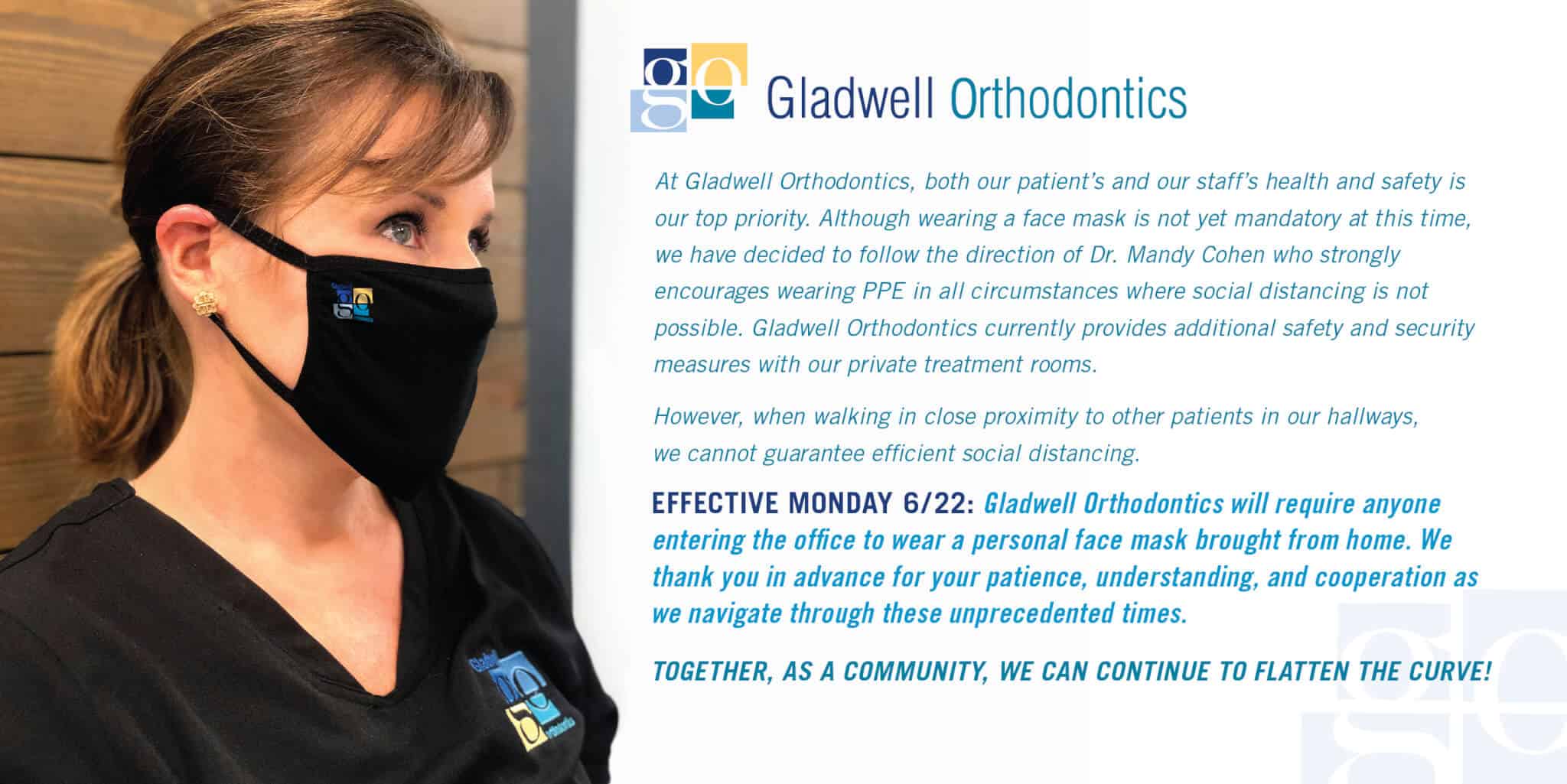 Our offices are open!
The team at Gladwell Orthodontics is dedicated to providing the best orthodontic care to our patients in a safe and healthy environment, while following the governor mandated orders. In order to maintain the health and safety of our patients and staff, please read through the following measures outlined below.
GO Safety Precautions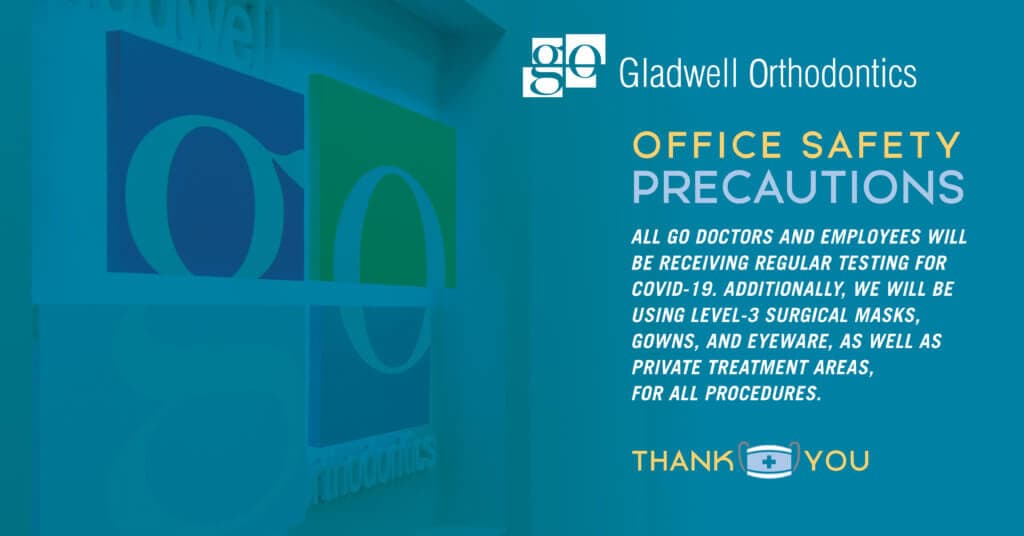 All GO doctors and employees will be receiving regular testing for Covid 19. We are also taking extra precautions for our patients' safety and will only be utilizing our private treatment rooms for appointments at this time. Additionally, we will be using Level-3 surgical masks, gowns and eyewear for all procedures, and per CDC and ADA guidelines, our team will not be performing any aerosol procedures until
Only Patients are to enter the office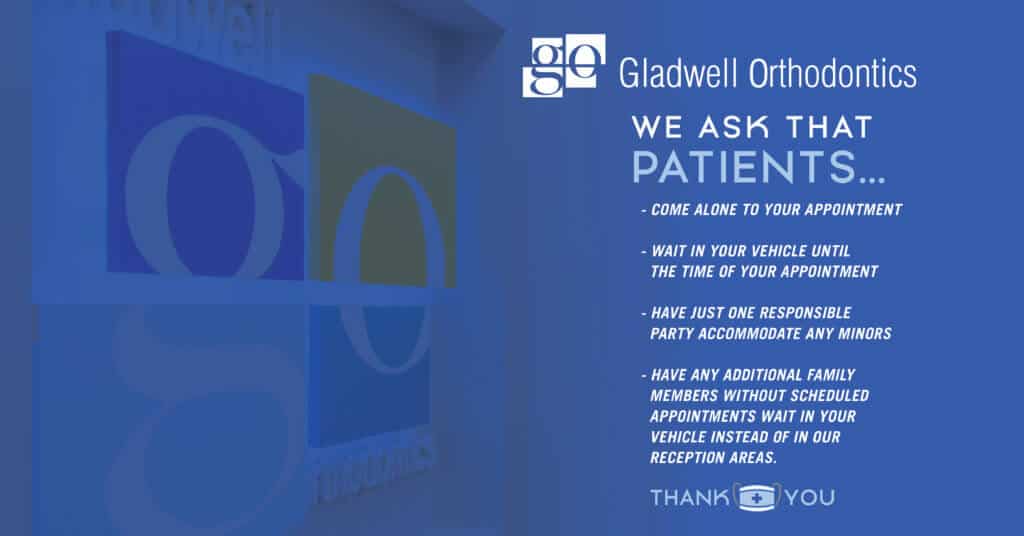 To minimize the number of people entering our office and maintain social distancing procedures, we respectfully request that only the scheduled patient enters the office for their appointment. One responsible party will be allowed to accompany minors. Additionally, our game room and Charity Café will remain closed at this time.
Enter the office at the time of your appointment
In an effort to eliminate having too many patients in our waiting area, we ask that you wait in your vehicle until the time of your scheduled appointment. At that time, you may enter the office and a team member will be waiting to bring you back immediately. It is also important that patients do not arrive late to their appointments in order to avoid any backup of patients in the office. If you are more than 10 minutes late, you will be asked to reschedule your appointment for another time or date.
Pre-Screening Questions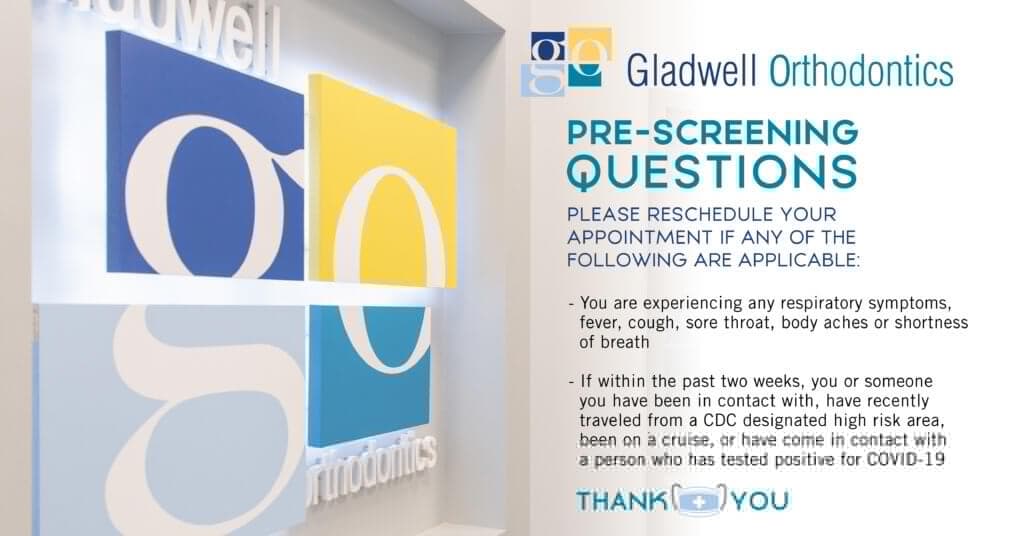 We ask that you call to reschedule your appointment if any of the following are applicable.
You are experiencing any of the following symptoms: respiratory symptoms, runny nose, congestion, fever, cough, sore throat, body aches, or shortness of breath. Also, please make us aware if you have had contact with anyone who is/has been ill with any of these symptoms.
If within the past two weeks, you or someone you have been in contact with, have recently traveled from a CDC designated high risk are, been on a cruise or have come in contact with someone who has tested positive for Covid-19. If you are looking for Free Wake County Covid-19 Testing use our friends at Radeas Labs.
Thank you for your understanding and adhering to these enhanced health and safety protocols. As always, our staff will continue to follow universal infection control pre-cautions per OSHA and CDC guidelines. It is our priority that our practice remains a very safe space to continue to administer care.
Please contact our office with any questions.