If you are looking for an Invisalign Diamond Plus specialist or expert orthodontist in the Chapel Hill, NC area, contact Gladwell Orthodontics today.
Fill out the simple form below to get started!
Thanks to Invisalign, you can straighten your teeth through a series of aligners that are custom made to fit your mouth. The aligners are comprised of comfortable and virtually invisible plastic that you can place over your teeth. You won't have to deal with the discomfort or look of traditional metal braces and can enjoy a beautiful and healthy smile in no time.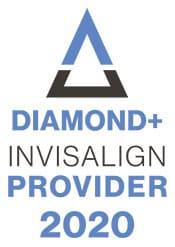 Dr. Jason Gladwell of Gladwell Orthodontics is committed to helping Chapel Hill residents improve their smiles through Invisalign. If you are interested in Invisalign, Dr. Gladwell will evaluate your current teeth, mouth, and gums and determine whether you are a good candidate. In the event that Invisalign is right for you, he will design a customized treatment plan tailored to your particular needs.
About Dr. Jason Gladwell
Dr. Gladwell stands out among other Invisalign orthodontists in the Chapel Hill area because of his recognition as a Super Elite Invisalign provider. Only 1% of Invisalign providers in the country have been earned this honorable distinction.
In addition to being an Invisalign Diamond Plus provider, Dr. Gladwell has treated more Invisalign patients in Chapel Hill and the state of North Carolina than any other orthodontist. His experience paired with his extensive knowledge of Invisalign can help you achieve the smile you've always dreamed of.
Why Invisalign
Invisalign can give you the confidence you need to go out and enjoy life at popular Chapel Hill events such as Tar Heel 10 Miller, the UNC Science Expo, and the Piedmont Farm Tour. Additionally, with Invisalign, you won't have to modify your lifestyle and can continue eating the foods you love, playing the sports that excite you, and brushing and flossing your teeth with ease.
Schedule an Invisalign Consultation at Gladwell Orthodontics Today
What are you waiting for? Schedule a complimentary Invisalign consultation with Chapel Hill Invisalign orthodontist specialist, Dr. Jason Gladwell today. Call Gladwell Orthodontics at (919) 453-6325 today.
Fill out the simple form below to get started!