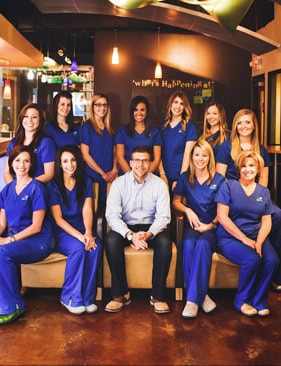 Whether this is your first visit to Gladwell Orthodontics, or you have already become a member of our family of patients, we will do everything we can to make you feel comfortable and at home! Dr. Jason Gladwell and our team of caring, highly-trained professionals is ready to answer any questions you may have.
When you arrive for your first visit to our Wake Forest, NC office, please introduce yourself to our appointment coordinator and she will help show you how to check in for this, as well as for future visits. After finding your name on the computer and letting us know you are here and ready for some fun, please come on back to the tooth brushing station and make sure your teeth are nice and clean! If you are early for your appointment, hang out and enjoy the coffee bar or the video games and one of our smiling staff will come find you!
Every aspect of our office has been designed with you, the patient, in mind. Our office offers the latest in orthodontic technology, all designed to provide you with the best orthodontic treatment and experience possible. We use digital X-rays, which help reduce your exposure to radiation while still maintaining clear imagery. Our "paperless" office allows us to be environmentally friendly and minimize the amount of paper we use.
In addition to designing our office to be environmentally and patient-friendly, we have also added elements to make your visit quite comfortable. Amenities like our video and game room, gourmet coffee bar, and wireless Internet for the working parents or patients are all efforts we feel will help your visit to be refreshing and enjoyable.