Dr. Jason Gladwell is the only Invisalign Diamond Plus provider in the Raleigh, Wake Forest and Durham, NC area. Contact Gladwell Orthodontics today at (919) 453-6325 to start Invisalign treatment that will create your perfect smile.
If you are seeking exclusive information about Invisalign in 2023 call us to discuss clear aligners in Raleigh or Wake Forest, North Carolina. We now have offices in Wake Forest, North Raleigh and Downtown Raleigh for your convenience.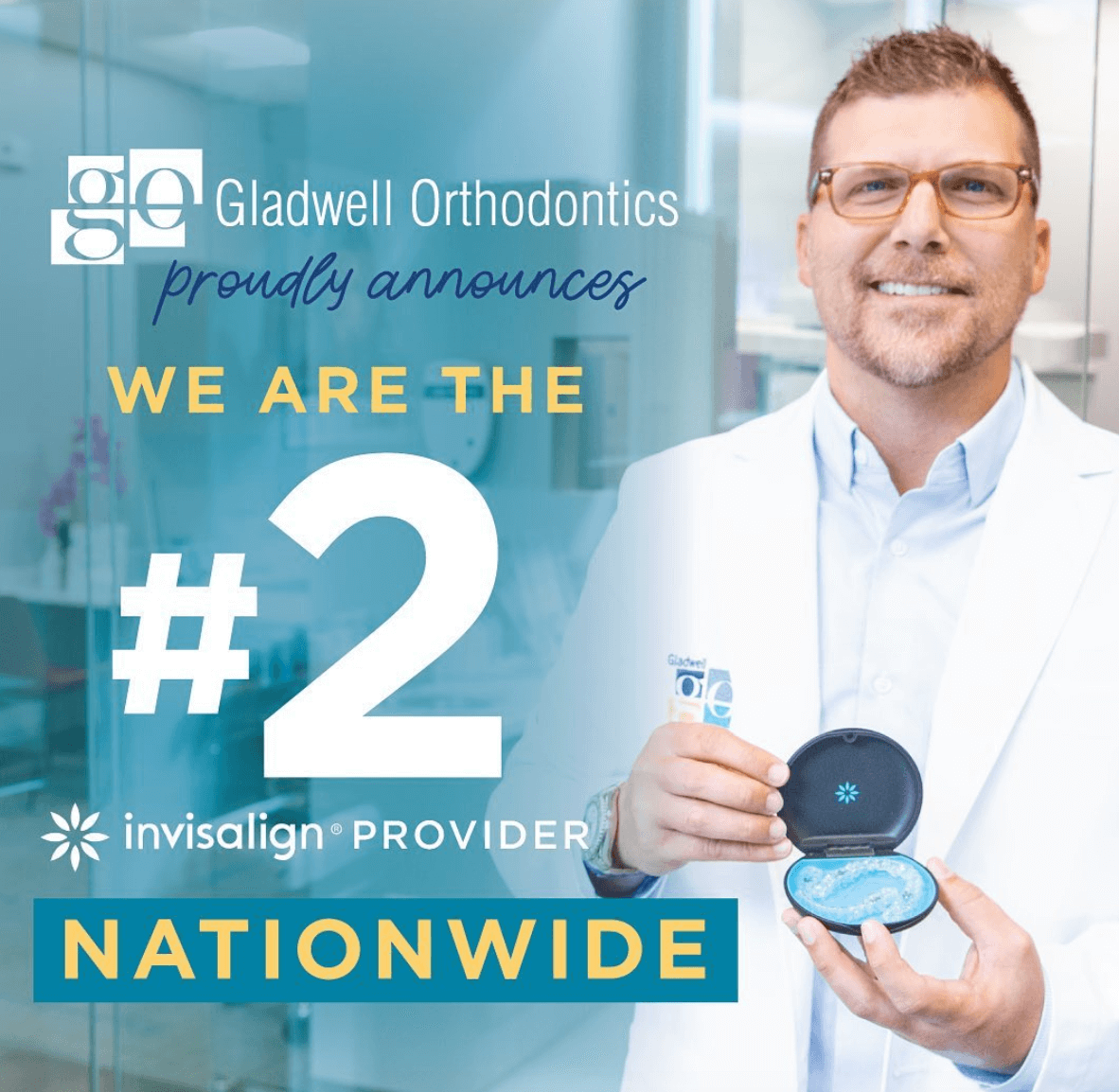 Fill out the simple form below to get started!
Gladwell Orthodontics: Your Diamond Plus Invisalign Provider
In 2023, Dr. Gladwell is the #1 Invisalign provider in North Carolina and #2 in the entire nation. He is a recognized speaker for Invisalign and has treated more Invisalign and Invisalign Teen patients than any other orthodontic provider in the state of North Carolina. Dr. Gladwell uses state of the art technologies, including 3D impression-less digital scans. To find out if Invisalign is right for you, contact Gladwell Orthodontics in Raleigh, North Carolina today! Whether you just built your first home in Wake Forest or you have lived in Downtown Raleigh your entire life, Gladwell Orthodontics is here to help.
What is Invisalign?
Invisalign is a series of computer generated clear aligners/retainers that fit over the surface of a patient's upper and lower teeth. Invisalign uses aligners that straighten teeth over time; these aligners are to be worn for a two week period of time. In years past, Invisalign was only used to treat mild to moderate crowding or spacing between teeth. Today, Gladwell Orthodontics can use Invisalign technology to treat many different types of teeth in both adults and teens. In fact, a large portion of our clients in 2017, 2018, 2019 and 2020 are adults looking for Invisalign. We predict that in 2020 and beyond we will see even more adults searching for information on Invisalign and Align Technology.
After a consultation with Dr. Jason Gladwell will determine your orthodontic needs. We will develop an optimal treatment plan that is best for you or your children. We will explain your options in great detail.
Benefits of Invisalign
Appearance – Invisalign are unlike traditional braces in that they are clear and barely noticeable to the naked eye. For most of our patients this is the most motivating aspect of selecting Invisalign.
Flexibility – Patients can easily remove Invisalign aligners before eating. They can also remove aligners to easily clean, brush and floss allowing our clients to prevent and avoid cavities.
Comfort – Patients often feel some tenderness and tingling after each new Invisalign aligner is inserted, but slight tenderness is much more comfortable than traditional braces. The reason patients feel the tingling is due to tooth movement. Invisalign does not require patients to use orthodontic wax and palliative rinses that are recommended with metal braces.
How Does Invisalign work?
Patients of Gladwell Orthodontics wear each set of aligners for approximately two weeks, removing them only to eat, drink, brush, and floss. With each subsequent aligner in the series, teeth will adjust until they have straightened to their final positions in which Dr. Jason Gladwell is satisfied with the outcome. As the top Invisalign Diamond Plus provider in North Carolina, Dr. Gladwell has the experience to create your perfect smile.
Patients will visit one of our offices, in Wake Forest, Downtown Raleigh or North Raleigh, once every six weeks to ensure that the treatment is progressing as planned. Total treatment time usually lasts between nine and 15 months. The number of aligners worn during treatment is between 18 and 30 months. The treatment time and number of aligners can vary from case to case.
For more information on Invisalign, you can visit the Invisalign website.
The Benefits of Straight Teeth
Whether you opt for traditional braces or Invisalign's clear plastic aligners, one thing is for sure, you're going to have straight teeth by the end of your orthodontic treatment. And, while a nice smile boosts confidence, you might be surprised to find out that straight teeth can improve your overall health as well.
Here are five benefits of a straighter smile:
1. It Gives Bacteria Fewer Places to Hide: When you're brushing and flossing around crooked teeth, you might miss a hidden crevice of food residue. Before long, this lingering debris can cause a wealth of issues, including tooth decay, inflammation, periodontal disease, bleeding, sores and tooth loss. With straighter teeth, you'll find it easier to whisk away this unwanted bacteria for a cleaner mouth.
2. It Gives Your Teeth a Longer Life: If you have protruding teeth, they're probably rubbing against other teeth. Over time, this can cause your tooth enamel to wear away. Tooth enamel stands as the first line of defense between your teeth and agents that can cause decay, so it's vital to maintain it. Straighter, properly situated teeth run less risk of rubbing and, therefore, losing their enamel.
3. It Reduces Your Risk of Injury: You can't predict when you'll be in an accident, but you can predict which teeth will be affected by one. It turns out that your upper teeth are most likely to be broken, especially if a crowded upper gum causes them to protrude. By straightening your teeth, you're giving them more protection in the event of a stumble, bump or fall.
4. It Keeps Headaches at Bay: Interestingly enough, your crooked teeth might be causing you routine headaches. That's because a crowded set of teeth puts extra pressure on your jaw, which, in turn, can contribute to that pounding feeling in your head, as well as in your face and neck.
5. It Makes You Happier: Finally, as previously mentioned, a straight smile can boost your self-esteem and happiness. The mere action of smiling makes you feel happier and less stressed, and, obviously, you'll be more inclined to do so with a straighter smile.
No matter which straightening method you choose, you'll reap so many benefits from the end result. Don't wait any longer to feel more confident and healthier: ask your orthodontist for a consultation today.
Can Adults Get Invisalign?
Absolutely! In fact, a growing part of our practice is adults looking for alternatives to braces. Invisalign is a great option for adults as many recognize their teeth are not as straight as they would like them to be. Whether you have crowded lower teeth or gaps in your upper teeth, there are opportunities to straighten them out without have to get metal braces. As adults, very few want to go through the process of having braces for several months or potentially several years. Contact Gladwell Orthodontics today so we can help you with the process of Invisalign today.
Can I Do Invisalign Myself?
It is wise to put your faith and trust in an orthodontist that has completed thousands of Invisalign procedures. Over the years we have heard about individuals that have attempted to put on their own braces or create their own Invisalign aligners or "mouthpieces" which has ended up in a disaster. Please do not try this as it will only cost you more in the long run. Contact our orthodontics office today to discuss how we can assist you with the straightening of your teeth with Invisalign. Also note that Invisalign is not going to be licensed as an over the counter product in North Carolina for quite some time.
If you live in the state of North Carolina and would like to know if Gladwell Orthodontics can assist you with Invisalign or clear aligners, contact our office today. If you have any questions related to Invisalign or the entire process, do not hesitate to give us a call. Our staff will be more than happy to help you, no matter where you are located in North Carolina, South Carolina or Virginia. We have achieve great success with Invisalign SEO and marketing which has helped us improve our skills on a daily basis.
Our Patients Come From…
We have assisted patients from Asheville all the way to Wilmington. If you would like to work with one of the top Invisalign providers in not only North Carolina but on the entire east coast, contact Gladwell Orthodontics today.
Fill out the simple form below to get started!